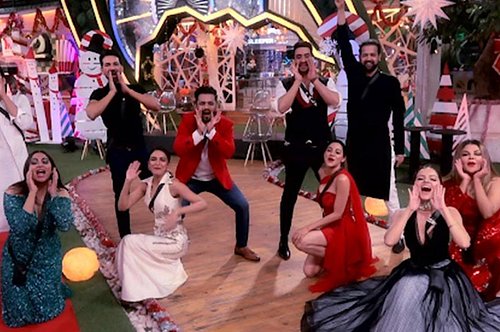 THERE WEREN'T ENOUGH CONTROVERSIES TO SAVE THIS SINKING SHIP.
In order to profit on their exploits and attract a huge number of viewers, Bigg Boss also hires candidates who have already generated controversy. As a result, former contestants have included Shakti Kapoor, Aman Verma, Sofia Hayat, Arshi Khan, and Ashmit Patel. This year, no major scandals surrounded any of the contenders. As a result, the producers developed a task that required housemates to reveal a hidden secret in order to acquire the immunity stone. Before joining Bigg Boss 14, Eijaz Khan confessed that he had been sexually molested as a child, while Rubina Dilaik revealed that she and her spouse Abhinav Shukla were on the verge of divorce. These huge disclosures, however, were insufficient to preserve the show's falling viewership.
Salman Khan has scolded Bigg Boss 14 inmates on several occasions, usually for doing something wrong but occasionally for being correct or even righteous. He's been known to make fun of participants on the show who have tried to be peacemakers. The show's vocabulary is filthy, and contestants are frequently seen squabbling about small concerns. Watching the show is not enjoyable because of terminology like 'nalla,' 'nalli,' and 'chhuchhundar.'
After attempting all of the tips and methods, the producers summoned back past BB participants to save their sinking ship. Rakhi Sawant, Rahul Mahajan, Manu Punjabi, Arshi Khan, Kashmera Shah, and Vikas Gupta participated in BB 14 as Challengers. Rakhi was the only one of the six challengers who fans enjoyed watching since she was the most entertaining competitor on the show, even more so than the current contestants.
THE BIGG BOSS 14 HAS BECOME A JOGGING PARK.
In BB 14, the quantity of re-entries is staggering. Re-entry was once considered a major event on the show, but this season, every second person who left the house has returned. It all started when Kavita Kaushik was re-elected after being voted out owing to a lack of votes in the previous election. Her time on the show was cut short following a heated disagreement with Rubina Diliak, and she voluntarily left. Due to health issues, Vikas Gupta, who had been sent out of the house for dragging Arshi Khan in the shower, re-entered to re-exit, and Devoleena Bhattacharjee joined him. Rahul Vaidya, Aly Goni, and Nikki Tamboli are among the other BB 14 participants that were sent off and then returned. It doesn't end there: Eijaz Khan, who had lately left the house, is coming back. Check about Bigg Boss 15.

Why is Bigg Boss 14 one of the worst seasons of the show?
Bigg Boss 14 producers have tried everything to make the reality program exciting, but they have failed horribly. On the first day of the season, fans got a taste of what was to come as the show was extremely long and many spectators were fast asleep by the time the final contender was unveiled.
The show premiered on Colors TV in October with 14 participants and three Toofani Seniors, Sidharth Shukla, Gauahar Khan, and Hina Khan. And it was at this point that the plot of the show began to disintegrate. The three previous Big Brother participants served as coaches on the show, which was a first. As a result of the seniors' superiority, the contestants were gravely damaged and were unable to fully participate in the game.
FRESH FACES WERE ELIMINATED TOO QUICKLY
Shehzad Deol, Sara Gurpal, and Nishant Malkhani were among those who were dismissed before they had a chance to shine. She never got the chance to return to the stage, unlike a few lucky ones who were re-entered. When Toofani Seniors left the show, the housemates felt perplexed. BB quickly added Wild Card Contestants. None of them, with the exception of Kavita Kaushik, were capable of running the show. Kavita, on the other hand, was booted out after only a week, only to return to the house and depart again.